What are Mini Apps & Why Marketers Should Care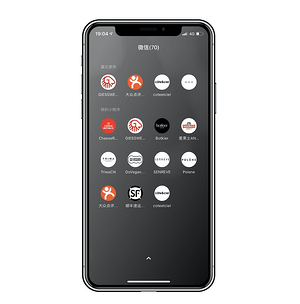 With apps continuing to grow as a vital staple of everyday life, marketers continue to ask, "Do I need to have an app for my business?"
Luckily, unless your small business' product is an app — or you have a skilled staff of developers, you probably don't need to spend tons of time and money building one just yet. Brainstorming, developing, launching, and promoting an app is a lot of work for a small company. In that same amount of time, you can launch a mobile-optimized website or mobile email strategy that could earn you solid awareness and ROI.
But, if you're a marketer at a digital startup, agency, or tech firm that thinks an app might be helpful for business, a more affordable development option could be on the horizon.
In 2020, some tech companies are starting to invest in "mini-apps." And, as these programs expand, there might be room for companies to test the waters with a more compact app experience.
Mini-apps became a commodity on large-scale Chinese social media platforms as recently as 2017. During this year, WeChat's founding company, Tencent, announced the launch of WeChat Mini Programs.
After showing success on apps like WeChat, miniature app-like experiences recently caught the attention of Western tech firms like Apple and Snapchat. These companies have begun to build out and launch similar programs to WeChat.
But what exactly do these apps look like, and how do they benefit the brands that launched them? Below, I'll highlight a few major mini-program platforms and give you a look at what these mobile experiences look like for brands.
Early Mini-App Platforms
WeChat Mini Programs
A 2017 report from TechCrunch described Mini-Programs as basic app experiences that could be accessed via WeChat. Although tech journalists describe these as mini-apps, Tencent could not label them as "apps" because they worried about infringing upon Apple and Google trademarks.
To give you a visual perspective of how Mini-Programs look on WeChat, here's a screenshot of what users see when accessing them. Although the text is in Chinese, the app's native language, you can tell the programs are all sponsored by other companies:
When you tap on a Mini-Program, such as Tesla's, you'll stay on the WeChat app, but enter a new experience within it. With Tesla's basic program, you can find charging stations for your car, or schedule test drives:
For users, a mini-program like Tesla's gives them the ability to connect with friends on WeChat, while learning about Tesla in the same session. Meanwhile, Tesla's content spreads awareness about its business to possible audiences or buyers who use WeChat.
At this point, the WeChat Mini Program is only available for the app's original Chinese version, Weixin. However, if a marketer is trying to grow awareness on this platform, they can apply for a Mini Program account. Mini-program app creators will require a developer to create the experience. According to a WALKTHECHAT review of mini-programs, this aspect can be somewhat tricky:
"Mini-programs have to be developed in a specific 'language' (a JavaScript framework developed by Tencent). Developers have to write WXML, WXSS instead of traditional HTML and CSS, and leverage this framework for all their development," the 2019 post noted.
Snap Minis
Snap Minis, announced in 2020, are miniature branded experiences within the Snapchat app. To access Snap Minis, a user opens a chat with a friend or group. Then they'll click on the spaceship icon, which reveals a number of searchable mini-programs. These include a number of different branded experiences from games, to scheduling tools, to meditation applets.
When users click on a miniature program, such as Headspace, they can interact with it in basic ways, such as playing daily meditations. You can also share in-app experiences, such as the meditations you listened to or a score on a gaming app, with your Snapchat contacts.
While Tesla's WeChat Mini-Program spreads awareness of the car brand and its physical store locations, Snap's Minis take things a step further as they offer content that audiences can share with others, rather than just interacting with it. This is a great option for tech marketers or digital brands that want people in the Snapchat demographic to actively share branded content with others in their community.
According to Snapchat, some development work is required before launching a Mini on its platform, but it is unclear if Snap or the partnering company will do most of the app development. Snap does note that Minis are easy-to-use build with HTML5 code.
At this point, brands interested must apply for early access to the Minis program. In the Snap application, businesses must include their contact information and explain what they'd like the Mini to be used for.
Apple App Clips
At this point, Apple Clips will still be inaccessible for brands that can't make their own Apple App Store app. However, they are still an interesting example of mini-apps that are worth noting, especially if your brand does have an app.
Apple App Clips, which launched with iPhone IOS 10.14 update in 2020, are small features of a larger app that's currently available in the App Store. Users can access App Clips by scanning QR codes, walking near an App Clip business with an NFC tag, visiting the brand's website, or clicking on a specially designed link, but users can also find them when using other apps, such as Apple's Messenger or Maps apps.
When someone is discussing or searching for something related to a business that has an Apple App Clip, a call-to-action will pop up allowing a user to "Open" the Clip without downloading a full app. From there, a user can then take advantage of one of the app's basic features.
For example, if two friends are talking about a restaurant chain that has an app via text message, an App Clip CTA might pop up encouraging them to open the restaurant's Clip to see a menu. When the user enters the Clip experience, they can do a small task, such as scanning the menu or making a reservation. Users can also click a CTA in the App Clip to download the full program from the App Store.
While companies who can't easily create an app probably won't benefit from App Clips, digital startups and tech companies should keep on their radar. Along with literally allowing people to test out an app before they download it, the App Clip CTA options allow people to get notified about a brand's app when they walk near its store, are messaging friends about products the brand offers, or while searching local businesses on Maps. This enables app promotions to literally meet audiences where they are.
Mini-App Takeaways for Marketers
Although some mini-app programs, such as Apple and Snapchat's are more exclusive and less accessible to smaller brands right now, they could be a helpful marketing tool for more companies in the future. Here's what marketers should keep in mind as mini-app programs grow and expand.
1. Brands that embrace digital transformation will get better "mini" opportunities.
First of all, your brand will likely need to offer a digital tool or store that will improve another major app's experience. For example, Tesla's website already allowed you to look up car charging stations and schedule test drives, so turning this into a mini-app experience would be much easier for developers.
Additionally, some of WeChat's audiences had an interest in technologies, cars, and Tesla's, which offered a business case for creating this experience. While audiences are zoning in on Tesla's offerings, they are still spending time on the WeChat app.
Because you'll need a strong digital presence and online business capabilities, mini-apps might not be possible for many small businesses yet — especially in the U.S. where they are just now being embraced. However, as the world becomes more connected to apps, this strategy could become more accessible to you later on.
2. Big apps will only host mutually beneficial mini-apps.
Think of mini-apps like a website integration or a brand partnership project. A major brand likely wouldn't have an integration with a competitor's tool or partner with a business that doesn't target similar audiences. In the mini-app space, the thinking might be similar.
Ultimately, big app brands will opt to host mini-programs that spread awareness to businesses with similar audiences and offer digital experiences that keep users on their main app longer. This is likely why companies such as Snapchat and WeChat require brands to apply for their mini-programs, rather than just allowing them to buy space for a mini-app.
3. Brands will still need to do groundwork in creating mini-apps.
In some cases, you might not need your own in-house developer to have a mini-app. In WeChat's case, the company offers a mini-program where brands can apply and pay to have a mini-app experience made and launched for them.
Despite the ease of working with some platforms, others like Apple will require you to already have developed an app. Meanwhile, Snapchat's site is unclear (at time of publication) about what creating a Mini fully entails.
4. Not all brands will be able to access "mini" partnerships.
Despite the opportunities that might exist with mini-apps, marketers — especially at small companies — should still keep in mind that this might not be applicable to them or their strategy.
As noted above, large platforms that offer mini-programs will selectively look for partners who can offer digital tools or experiences that improve each user's time on their main app. And, even though larger platforms might be more involved with producing a mini experience for smaller brands, these partners will still likely spend some time and money on ensuring that their program offers a glitchless experience.
The good news? Although many companies can't launch a mini-app, just yet, they don't necessarily need to. If you never see this tactic fitting into your strategy, there are plenty of ways you can boost mobile or online awareness without any sort of app.
If you'd like to harness on mobile marketing alternatives without an app, check out this Ultimate Guide.

With apps continuing to grow as a vital staple of everyday life, marketers continue to ask, "Do I need to have an app for my business?"