The 7 Best Leadpages Alternatives in 2020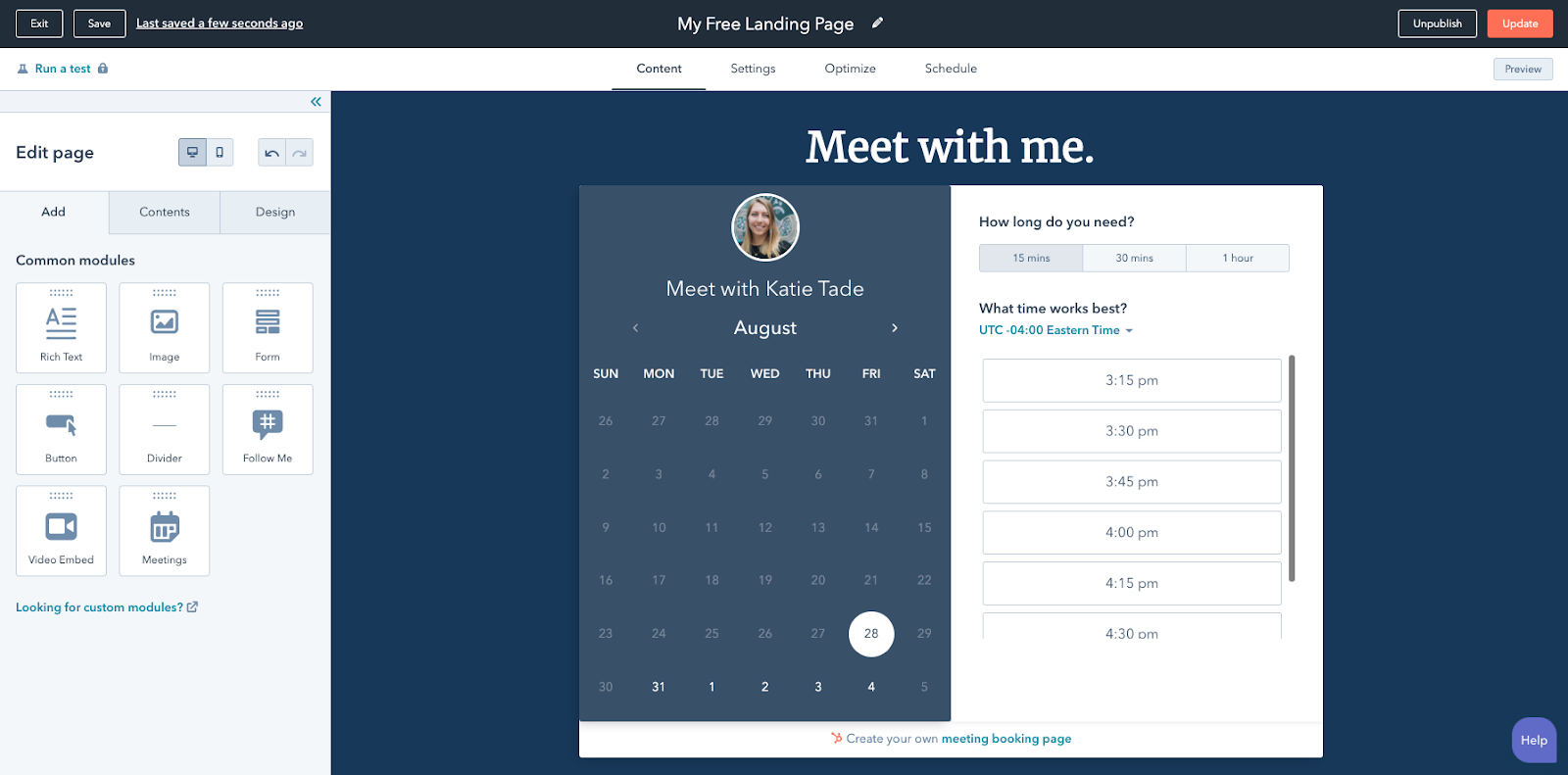 It doesn't matter how awesome your e-book is if no one can download it.
And you might have the perfect agenda for your webinar, but if it isn't easy for your customers to sign up, it'll all be for nothing.
That's why you need an effective landing page builder.
Landing pages allow you to turn the traffic generated by your marketing campaigns into leads for your business. They're simple pages — often with just a few lines of text and a form — to drive conversions and turn visitors into leads.
When done correctly, landing pages are an essential tool to help you generate leads and pass off those qualified leads to your sales team.
And one of the most popular tools for creating landing pages is Leadpages.
Leadpages offers a variety of tools that can help you create compelling landing pages — including pop-ups, a drag-and-drop page editor with a seemingly endless list of pre-made templates, and more.
But Leadpages doesn't have a free version to help you get started, and doesn't offer many marketing tools beyond landing pages.
If you're looking for an alternative to Leadpages, there are a number of different tools that you can explore.
Let's take a look at the seven best Leadpages alternatives.
The 7 Best Leadpages Alternatives
HubSpot's landing page builder helps you build beautiful landing pages that fit seamlessly into your marketing campaigns.
The drag-and-drop page editor is easy to use, and comes with a variety of templates for a number of different content offer types.
It includes all of the modules you'd expect, like a rich text module and a forms module, but it also has a video module and a meetings module, so your prospects can book meetings with your sales team directly on your landing pages.
Best of all, HubSpot's landing page builder is available for free, and comes with the HubSpot CRM included.
With the CRM, you can track every interaction your prospects have with your brand, allowing you to create marketing campaigns that focus on the end-to-end customer experience. And with HubSpot Academy, you'll be able to learn how to effectively run a marketing campaign and easily apply those learnings to the next campaign you run.
Additionally, as you grow your business, HubSpot's landing page builder grows with you. You'll be able to run machine-learning powered tests on your landing pages to ensure you're constantly optimizing your pages for conversions, aand revenue attribution reporting shows you exactly which offers are impacting your bottom line.
Unbounce is one of the most popular landing page builders on the market today.
They provide landing pages and pop-ups geared at turning traffic into revenue for your business. Unbounce comes with over 100 templates that you can easily customize in their drag-and-drop editor. All their templates also work with WordPress.
Although powerful, Unbounce starts at $80 per month, and charges you based on the number of conversions you receive on your pages. For growing companies, this can add up quickly as you generate more leads off your content offers.
Like the other landing page builders on this list, Instapage offers an easy-to-use content editor, and a number of templates to create your pages.
Instapage also includes a feature called AdMap. With AdMap, you'll be able to visualize how your ads match your landing pages, and report on the effectiveness of your ad campaigns personalization.
Their landing page solution also lets you leave comments on different elements of a landing page and @mention team members of yours, making it easy to collaborate on your marketing campaigns.
While powerful, Instapages starts at $149 per month and still limits the number of pages you can create, how many users you have, and the number of unique visitors to your pages.
Mailchimp now does so much more than email.
They've built out a full suite of marketing tools that helps small businesses get up and running with their digital marketing efforts. Their landing page builder works alongside their ads, email, and social media tools.
Additionally, their drag-and-drop editor is easy to use and lets you create beautiful landing pages that match your brand.
You can get started with Mailchimp's landing page tool for free, and upgrade to their paid tier to start collaborating with your teammates, get access to more templates, or start optimizing your campaigns.
Clickfunnels is a landing page builder and marketing automation tool focused on the sales audience.
Clickfunnels believes that your content should produce results just like your best sales reps would, and it's a solution aimed at moving prospects through a sales funnel into becoming customers.
Clickfunnels has a number of templates to choose from based on intent — such as up-sell or webinar event pages. To edit these templates, you can use their drag-and-drop page editor to create a page that works for you and your business.
Best of all, they have pre-built "funnels" that you can use to visualize your customer's journey with your brand — including follow up funnels that will help you cultivate relationships with users who've converted on your content.
Sendinblue is a simple marketing automation tool that features a number of different tools that SMBs need.
From email marketing, SMS, Facebook Messenger, and a CRM, you get a suite of tools that can help you communicate effectively with your customers.
Their suite of tools includes an intuitive and straightforward landing page builder with a number of pre-built templates you can choose from.
Although intuitive, their landing page builder is not included in their free product offering, and starts at $65 per month for five landing pages. However, other free offerings like their email marketing and SMS features are a great way to see if Sendinblue is right for you.
Like other landing page builders on this list, GetResponse comes with a number of other tools that can help you build amazing marketing campaigns.
With email marketing and pre-built sales funnels you can quickly begin marketing to the leads that you generate on your landing pages. What sets GetResponse apart are some of the features they include to help you fully design your pages.
They have built-in integrations with Shutterstock and Giphy to help you add compelling visuals to your landing pages, and they also include a mobile-first editor, in case there are a few tweaks you want to make to enhance your mobile-visitors experience.
Choosing the Best LeadPages Alternative
Ultimately, deciding what landing page builder you go with will depend on your business' needs.
For instance, if you're looking for a point solution, tools like Unbounce or Instapage will be great for you — alternatively, if you're looking for a platform that you can use across all your marketing efforts, other tools like Mailchimp or GetResponse will be better-suited for your needs.
And, for growing teams looking to align their marketing efforts around the customer experience, HubSpot's landing page builder is a powerful choice for you. You can get started for free, and track your customers' journey with your brand through the HubSpot CRM.
Plus, as you grow, you not only avoid having to rip out other tools, but you gain access to more advanced solutions that will help you unlock even more insights on your customers' experience.

It doesn't matter how awesome your e-book is if no one can download it.