How to Build a Brand Through Live Streaming [+ Examples]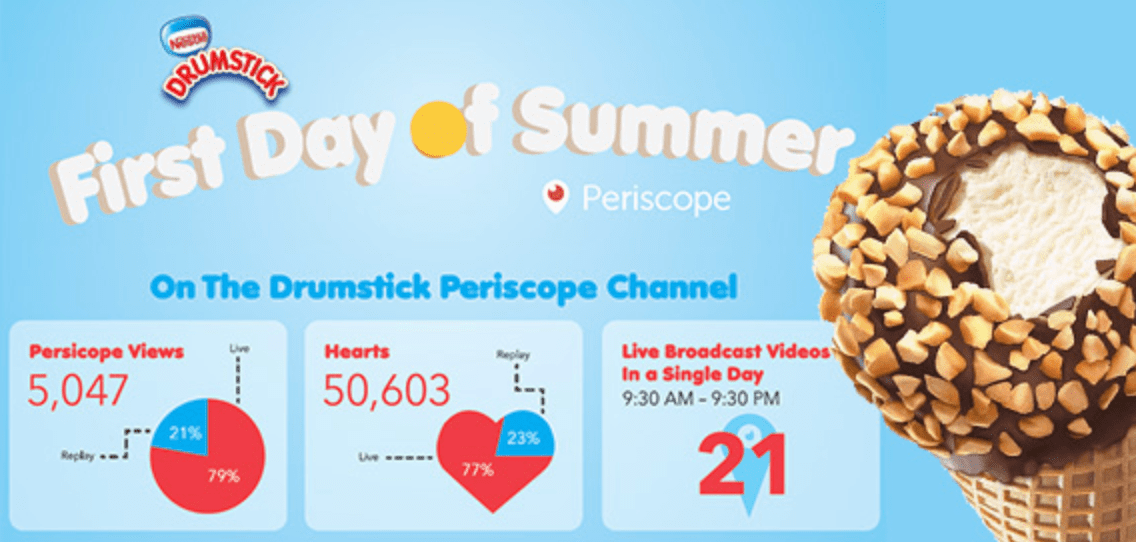 Nowadays, it's critical you invest in a video marketing strategy to build brand awareness and expand your reach, particularly since so many people prefer watching video over other types of content.
But even the most robust video marketing strategy often misses one key element: live streaming.
Over the past few years, live streaming has become a popular marketing tool. In fact, in 2019 alone, people watched 1.1 billion hours of live video, and 82% of people prefer live video from a brand over standard social media posts.
Additionally, live streaming is an effective method for building trust and demonstrating authenticity.
Besides the trust factor, there are plenty of other incredible live streaming benefits that can boost your brand, including maximizing audience reach, demonstrating creativity, enabling direct communication between your brand and audience, and cost-efficiency compared to other video strategies.
However, one significant downside to live streaming is the unpredictable nature of it, which makes your content prone to flaws. To minimize those risks, it's of the utmost importance to thoroughly plan your streams beforehand.
Here, let's dive into six common use cases for live streaming, as well as how some major brands use live streaming to promote new products or reach new audiences.
6 Ways to Use Live Streaming to Build a Brand
Now, let's take a closer look at some of the most common use cases of live streaming for brands.
Unlike traditional videos, live videos allow for direct communication with your audience. Therefore, brands tend to take full advantage of this factor in the following types of live streaming.
1. Brand news and messages.
If you choose to pre-record your company updates, it can appear inauthentic and lack warmth. Announcements or other news-related messages are a wonderful opportunity to keep in touch with your customers, and live streaming is an effective method to do that.
By live streaming brand news, you're showing your audience you care enough about them to speak directly to them. Additionally, you can live stream such announcements internally to your workers and achieve the same effect.
2. Live interviews.
Let's talk about something very exciting — live interviews. Although it might seem obvious, live interviews should be live streamed, not pre-recorded. Creating such content can certainly raise awareness about your brand, especially if you invite big names to your stream. You can host pro live interviews in a matter of two clicks in Restream Studio. No third-party apps are needed — just your browser, web cam, and microphone.
3. Webinars.
Another effective opportunity to boost your brand via live streaming is by hosting webinars. Get your leads and conduct an educational session, explaining the principles of your work and promoting your brand values.
Such educational events can potentially attract a more diverse demographic. This way, you will be able to positively impact your brand's awareness and the desire of the viewers to become its advocate.
4. Live Q&A.
Similarly to webinars, live Q&A sessions allow for continuous communication with your viewers. This provides your audience with an opportunity to learn exactly what they want about your brand, and gives them the sense that you care about making them feel heard.
Additionally, live Q&As seem to be the easiest and quickest way to tell the world what is your brand about. Depending on the topic, you can ask any employee to provide answers in the Q&A.
For instance, if you feel the questions are going to be product-specific, consider asking a Product Manager or Product Developer to answer questions. Alternatively, you can always ask a PR, marketing, or social media manager to participate in the Q&A. Your audience will appreciate being able to put a face behind the brand.
5. Product promotions and releases.
A few major brands such as Apple or Nestle — which we'll dive into, below — use live streaming to promote new product releases. This provides a sense of authenticity and trust into your product releases — plus, seeing a live release of a product is exciting and builds excitement around the release.
Additionally, you can always record your streams and repurpose them on product landing pages later on.
6. Influencer live streams.
Using influencers in live streams is rapidly gaining popularity, particularly since influencer marketing allows you to reach a larger and more diverse audience. Plus, influencers likely already know how to speak on-camera to an audience, so it saves your employees some stress if they don't want to be on-camera.
Additionally, you might be able to save some resources by hiring an influencer to conduct the live stream with his or her own equipment.
6 Examples of Brands Using Live Streaming
Now that we've covered potential use cases for live streaming, let's see how a few brands use live streaming to build or expand on their own brand.
1. Apple
One of the biggest tech companies in the world, Apple is continuously developing and expanding on its products, and often chooses live streaming to promote its new releases.
The company vigorously promotes its new products online twice a year. The live product release doesn't need any explanation. However, Apple makes a "Show El Grande" out of a traditional presentation. These events gather more than 10 million viewers across the world.
2. Microsoft
As another tech giant that uses a similar strategy to Apple, Microsoft live streams product announcements and internal training for workers, as well as software releases and updates.
Events like XBOX games releases gather millions of viewers, which results in consumer awareness and excitement.
3. Nissan and General Motors
Both these automobile manufacturers have presented their new cars via live streams. Nissan streamed its Maxima at the 2016 New York auto show, and General Motors became the first automotive brand to showcase its product on a Facebook live stream.
4. Kohl's
Another successful live streaming strategy was used by Kohl's in 2016. It used influencer marketing to promote its Black Friday sales on Facebook Live. Kohl's partnered with famous vlogger Judy Travis and managed to raise awareness and increase sales.
5. Nestle
Another example of a successful influencer live stream is Nestle's Drumstick marketing campaign. The brand masterfully took advantage of the trending hashtag #FirstDayOfSummer and partnered with some rising influencers on Twitter's Periscope.
The campaign quickly went viral thanks to the influencers' live videos, promoting Drumsticks.
Image Source
6. Ninja
Arguably the most exciting development of an individual brand has been shown by Richard Tyler Blevins, better known as Ninja. He used to be a professional gamer and started live streaming in 2011.
Blevins actively followed the gamer trends and achieved his popularity thanks to Fortnite. By the year 2020, Ninja had more than 23 million subscribers and an extremely popular brand in the gaming world. He often uses live streaming to connect with his audience and expand his reach.
Image Source
Which streaming platform is the best to build your brand?
The golden rule is to choose a live streaming platform where you believe most of your consumers are. This way, you ensure your resources will be spent well. However, if your goal is to attract some new potential audiences, you can try investing in a platform that could help you expand your reach.
Another important factor you should consider when choosing a platform is how many viewers it has. The more people circulate around a streaming platform, the better it will be for your campaign. Some of the best streaming platforms include YouTube Live, Facebook Live, LinkedIn Live, Periscope, and Instagram.
However, you don't necessarily have to choose one specific streaming platform. With services like Restream.io, you can simultaneously multi-stream your live content to as many platforms as you'd like, thus maximizing your audience reach.
If you're convinced live streaming could be an effective strategy for your own brand, take a look at How to Live Stream Successfully: A Preparation Checklist for Marketers to learn how to plan your first live streaming event.

Nowadays, it's critical you invest in a video marketing strategy to build brand awareness and expand your reach, particularly since so many people prefer watching video over other types of content.