How 6 Brands Use Instagram Live in Their Marketing Strategy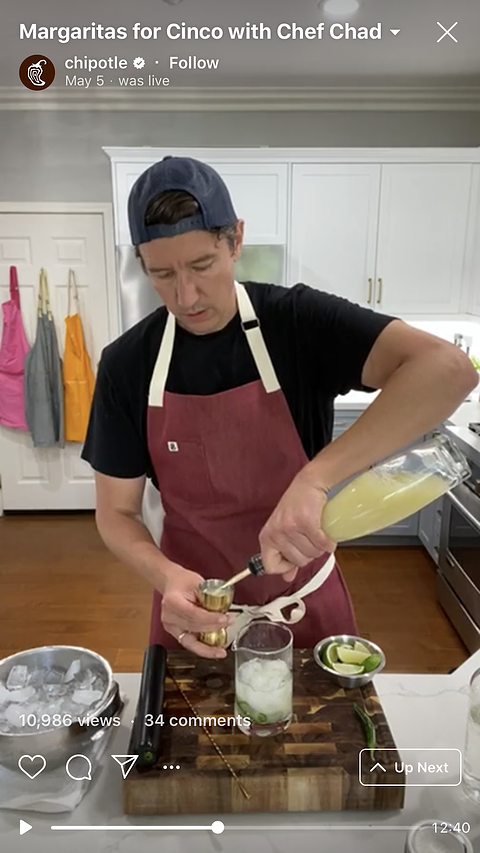 83% of Instagram users say they find new products or services by browsing the platform. So, how can you ensure your brand attracts new audiences on Instagram?
One way is with Instagram Live.
The live feature is part of Instagram Stories and allows you to stream video and engage with followers in real-time. When a user goes live, Instagram notifies their followers and highlights their profile picture in the Stories section, making it appear first in line on their followers' feeds.
Live video can be an effective tool to highlight your business offerings and host engaging events for users to join. In fact, 82% of people prefer live video over social posts from a brand according to a survey hosted by Vimeo Livestream and New York Magazine!
But enough from me — now, I'll let you take inspiration from those already using Instagram Live to grow their brand.
How 6 Brands Use Instagram Live
Global Citizen is a non-profit organization with a mission to end extreme poverty by 2030. Earlier this year, the brand used Instagram Live to promote their #TogetherAtHome campaign — an effort to encourage social distancing in order to slow the spread of coronavirus.
To attract viewers, Global Citizen partnered with numerous celebrities to host an at-home concert series. Below is their Instagram Live collaboration with H.E.R., a musical artist.
In this livestream, H.E.R. advocated for quarantine, performed a few songs, and responded to live comments to lift spirits during difficult times. Besides the many heart-eye emoji reactions, viewers also shared comments such as, "This song brings me so much peace." and "Music does heal." to express their enjoyment.
Our socially-distant world also helped to make the #TogetherAtHome campaign popular because it was able to bring people together virtually.
The takeaway for your business: Research influencers in your industry to collaborate with and host Instagram Live takeovers. By doing so, your business will likely reach new audiences who are more willing to learn about your brand. You can also interact with the viewers in real-time in the comments or have your guest share a message about your business.
Lastly, consider tying Lives to current events to make your livestreams relevant to national or global conversations. These actions will boost your brand awareness.
Barry's Bootcamp is a worldwide fitness studio offering workout classes. The company has been using Instagram Live to their advantage by sharing high energy workout sessions.
The live feature works well here because it can be more engaging for viewers to follow along with a live class rather than watching a pre-recorded session. In Live, they can also see how many other viewers are tuning in and watch their reactions to the class. The instructors also offer motivational words of encouragement to keep the energy going.
For Barry's Bootcamp, live fitness classes align with their company brand and mission while providing valuable content to fitness enthusiasts. This helps to increase their brand equity and capture future converting customers.
The takeaway for your business: Instagram Live can also be used to host live workshops from your business. Lives make it easy for users to follow along and can serve as something people look forward to in their day.
Think of Instagram Lives as a way to create a virtual community of people coming together to do something. Similarly, a wellness company may host live meditation sessions. Any activity is up for grabs as long as it supports the business vision.
Chipotle is a fast food chain serving Mexican food and the company uses Instagram Live to share tasty recipes. In the below example, Chipotle's executive chef shares how to make margaritas for Cinco de Mayo.
In this Live, Chef Chad takes viewers step-by-step through his margarita-making process and explains his thought process behind each step. This tutorial is one that viewers can trust and learn from since it comes from a top chef at the restaurant, especially if they're already a fan of Chipotle.
It's also worth noting how this Instagram Live celebrates Cinco de Mayo, which naturally ties into the restaurant's Mexican cuisine. Chipotle leveraged this holiday as a great opportunity to provide entertaining and informational content.
The takeaway for your business: Ask yourself: What can we, as a business, teach members of our audience? Depending on the answer to that question, Instagram Live could be a great place to educate your audience while responding to their feedback and questions in real-time.
From the above Chipotle example, you can also better understand how acknowledging well-known events and holidays (e.g. cultural events, sports, and awards seasons) can work in your favor for this type of marketing strategy.
Speaking of food, Bon Appetit is a magazine all about cooking and recipes. Recently, Bon Appetit used Instagram Live as an opportunity to host a virtual dinner party with various celebrity guests. Each guest pairing was also creatively named after courses of a meal, from appetizer to digestif. Below is a screenshot from dessert:
Throughout the series, the chefs and guests carried out relaxed and casual conversations about anything and everything (you know how it goes at a dinner party). Bon Appetit was able to create a laid-back, yet engaging atmosphere. For those watching, this could've been an immersive experience to feel as if they were chatting with their friends over dinner.
The takeaway for your business: Instagram Live doesn't have to be formal. Let your guard down and show your authenticity. Bon Appetit's Dinner Party concept is both fun and creative — brainstorm potential themes you may be able to incorporate into your livestreams to achieve the same results.
Moreover, creating a series of Lives will incentivize people to follow your account and stay tuned for new content. Also, take advantage of Instagram's guest feature to add someone else into your brand's conversation.
If you prefer more structured programming, then look to Chewy, an online retailer for all pet essentials, for inspiration. Targeting pet owners, Chewy provides educational content on how to care for a variety of pets. An example of this is their Vet to Vet Live:
These Q&A sessions provide valuable insight from experts for pet owners. Pet parents can also input their questions in the comment section for instant expert advice. As a brand, these informational videos help Chewy establish itself not only as a place to shop, but also as a resource they can turn to for any pet-related needs.
The takeaway for your business: Using Instagram Live to conduct Q&As and interviews can provide insightful tips and advice for your audience. This educational content will be appreciated by your audience members who are eager to learn and help you increase customer loyalty. Additionally, listening to a conversation between multiple people, and watching that interaction live, can also be more enjoyable than a one-man show.
Origins is a cosmetics company creating products from naturally-derived ingredients. Origins aligns Instagram Live with their brand by showcasing products and hosting conversations about skincare.
As shown in the screenshot, the Origins representative presents one of their products up close to the camera. This is important because products online often only show the packaging of the product, so revealing what the product itself looks like lends potential customers a better understanding of how they might expect the product to look and feel.
The two hosts also share what they like about the products and how they use it in their day-to-day lives. Sharing their stories provokes viewers to consider how they can incorporate the product into their own routines, which ultimately pushes them closer to purchase.
The takeaway for your business: Live is the perfect place for product demos and to show customers what they can expect from your business. This can resolve any hesitations related to making a purchase. It also offers a place for experts and current users to answer any concerns about the product a prospect may have. Assess your current offerings and create a live session to discuss how the customer can use and benefit from your products.
No matter which industry your business is in, all successful Lives have one theme in common — they provide valuable content for viewers that's entertaining and/or educational.
Now that you know how other companies are marketing with Instagram Live, see the exact steps you need to start your next Live.

83% of Instagram users say they find new products or services by browsing the platform. So, how can you ensure your brand attracts new audiences on Instagram?